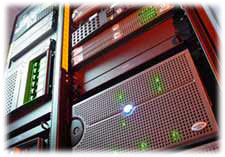 ServerKing is the North Coast's only dedicated web host, offering the best in speed, reliability and value.
If your organization seeks the ultimate hosting solution at competitive rates, then ServerKing is the answer. Unlike other local companies, our servers have only one focus: serving you.
Why pay more for web space running on an ISP which shares it's resources and efficiency with dial-up customers? The answer is simple: go with the King of web hosting. Choose ServerKing.